"Fore!"
That's what we're yelling because look out! Our Quilted Squirrel staffers are taking on golf.
And why not? Golf season is in—ahem—full swing. With the PGA Championship teeing off tomorrow and Father's Day right around the corner, we're ready to grip and rip it, whatever that means.
What does that mean?
It doesn't matter. Saddle up in our proverbial golf cart and get ready to ride!
Here's who we are and how we feel about the game of golf.
Jerry Lee, Marketing Strategist
Take it from someone who's fallen from not one, but TWO moving golf carts: A fun time on the golf course rarely involves playing good golf.
I actually think it's, minute-for-minute, more beer-ingestible than bowling. Plus, you have the chance to look almost as ridiculous while doing it.
I think everyone would blindly admit that driving the golf cart is as fun as golfing anyway, and you really do have to try and keep your cool about it as to not show your true "this is as close as I'll get to ever owning a go-cart track" poker face. 
Add in the chance to just pee openly into the pine trees without anyone saying anything, stop at random lawnmower sheds selling hot dogs (and the jumping for joy when carts of beers, spirits, and frozen candy bars just appear out of nowhere, like the butler from Mr. Deeds) and you have a wildly Kramer-like day ahead of you.
Golf? It's okay. I guess. But golfing, that's just the cat's pajamas if you ask me.
RELATED: TQS takes on comedy
Does miniature golf count? I have some very fond memories on the green of mini golf courses. I enjoy swinging a putter at brightly colored golfballs amid mini topiaries, water features, and sand traps. As for full size golf courses and clubs… I'm rather a novice.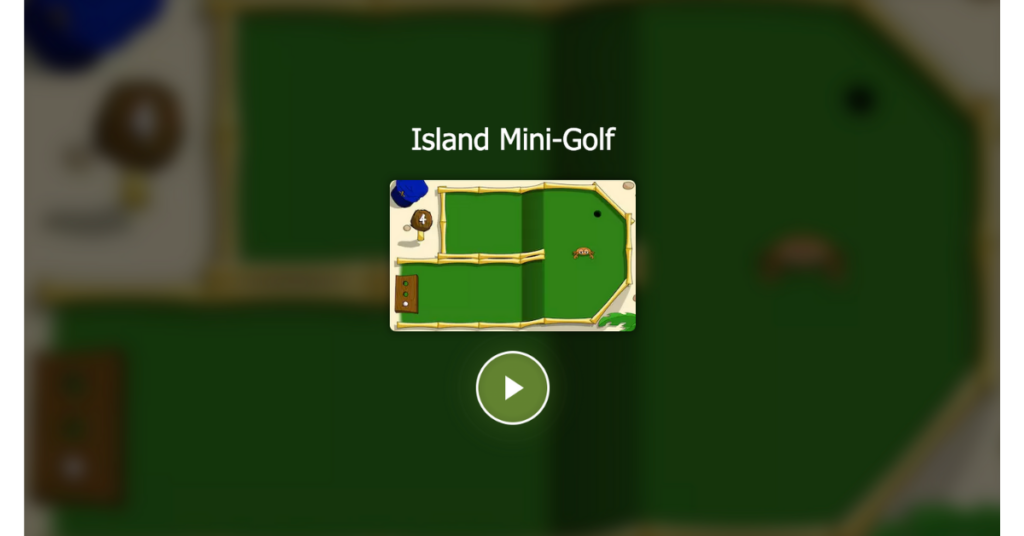 RELATED: TQS takes on superstitions
I used to be a golfer. A good one, even. Made the high school golf team just a month after golfing for the first time (I'm not convinced our team was super good). Played a ton in my 20s—usually weekly. Carried a low-teens handicap for while.
Then our first child came along when I was 30. Golfing opportunities were dramatically reduced. Handicap dramatically increased. Second child, even less golf, coupled with an even higher handicap. And now six years removed from the birth of our third, my golfing time is down to just one weekend a year, and a handicap that's not even worth tracking anymore—so I don't.
And even that one weekend of golf is more about the camping (and meat and beer consumption) with friends. We find time to mix in two rounds of golf, though. So, yeah, I guess I still like golf…
RELATED: TQS takes on children's lit
Golf. I don't mind it, and wouldn't mind doing it. Just don't seem to have the time (or the clubs, anymore) to make it happen.
When I moved to town the summer before high school, the par 3 on the 15th hole of Glen Oak golf course was literally in our backyard… separated only by the cart path. At dusk, when the course was mostly cleared out, I'd regularly make my way onto the course with a driver, a 5-iron, and a putter to play a few holes. I probably hit at least a 1,000 balls toward the flag on 15 within the eight or so years I was around there—only one hole-in-one. Not a great ratio.
Also of note: During a couple summers, I had quite the business at the 15th hole selling golf balls we found in the woods and ponds around the course… along with lemonade sales on the hotter days. I could pull in a couple hundred dollars in a weekend—which is pretty solid cash for a 14-year old.
Other fun facts: Lindy Ruff was a great tipper (a past customer of the aforementioned lemonade and golf ball sales enterprise). Not counting miniature golf, I've golfed five times in the past 27 years. Four of them were in the week prior to my wedding 20 years ago, and the other time prior to a friends' wedding approximately nine years ago.
RELATED: TQS takes on 2032
This is a rather timely edition of "TQS takes on" for me, because these last few weeks I've been looking into lefty golf clubs and sets to start golfing. It seems like fun to go play a round with friends and family, and to get some exercise in as well.
I actually used to golf with my grandpa at the Par 3 course across from the Audubon Golf Course in Amherst, but that was years and years ago when I was just a kid. I see I'm in good company here, which will help me finally take the plunge, so stay tuned!!
On a related note, "Happy Gilmore" (1996) is one of my favorite movies of all time.
RELATED: TQS takes on pie
I think golf is fantastic. It's a recreation as well as a sport. I think I fell in love with it really in college when everyone had to bring a 12-pack of beer and you were allowed to take a stroke off your score for every beer you drank. It was just as chaotic as it sounds.
RELATED: TQS takes on the supernatural
They call me Jimmy Three Putts for a reason. Any guesses? I lack poise, vision, and any ability to execute on the putting green. I stink! So even if I manage to get on the green in three shots (or four or five or six), it almost always takes me three putts to drain the cup.
But I do love golfing, and I've already made a concerted effort to hit as many courses as I can while the nice weather lasts. Fingers crossed for a lot of sunny days, green grass, and cold sodas this summer out on the links.
Oh, and if you're a golfer (or know someone who loves to golf), check out this free rangefinder and scoring app: Golf Pad.
Let's tee up a project together.
You could contact us to schedule a golf game (please do), or you could hit us up for  branding, website, video, or creative campaign work, too.
And don't forget to follow us on LinkedIn, Facebook, Twitter, and Vimeo for more.
Thanks for reading. ⛳
Sign up for our newsletter...
Give us your email and get our stuff delivered to your inbox. You might not regret it.
Thanks for subscribing! You won't be sorry.
Uh oh. Something went wrong.