"What a scoop!"
This is something I say when I'm pretending to be a "real" writer, or like some sort of journalist (which I'm certainly not and probably never will be). But when I'm making pretend, as I'm wont to do, I'll respond to a new or different writing assignment as a real-life marketer with "What a scoop!" In my imagination, I'm wearing a press hat and popping a flash bulb photograph. "What a scoop!" I'll exclaim. Pop. Flash. Story.
I say this every time Quilted Squirrel puts to puts together the Kaz Home Improvements Magazine, which is a value-add marketing piece that:
Showcases the company's expertise
Offers customers practical advice and professional recommendations
Presents relevant, fun, family-friendly activities
Establishes the company's commitment to the community
Invites customers to the company's on-site store and showroom
Introduces employees and builds trust with the audience
Reiterates CTAs to call the company and talk business
Reinforces the company's brand without pushing the hard sale
Every magazine article—or "scoop," if you'll allow—fulfills one (or some) of these value-add criteria. The point of value-add marketing, of course, is to offer customers more than they're expecting. More than they are paying for. More than they need, perhaps, but with a purpose: to personalize your messaging and humanize your brand. This is good. Customers like this.
And marketers do, too, because it is, well, fun. It gives us the opportunity to pretend we're old-timey newspaper journos with press hats and flash-bulb cameras. Some of us, anyway. Just the writer? Fair enough.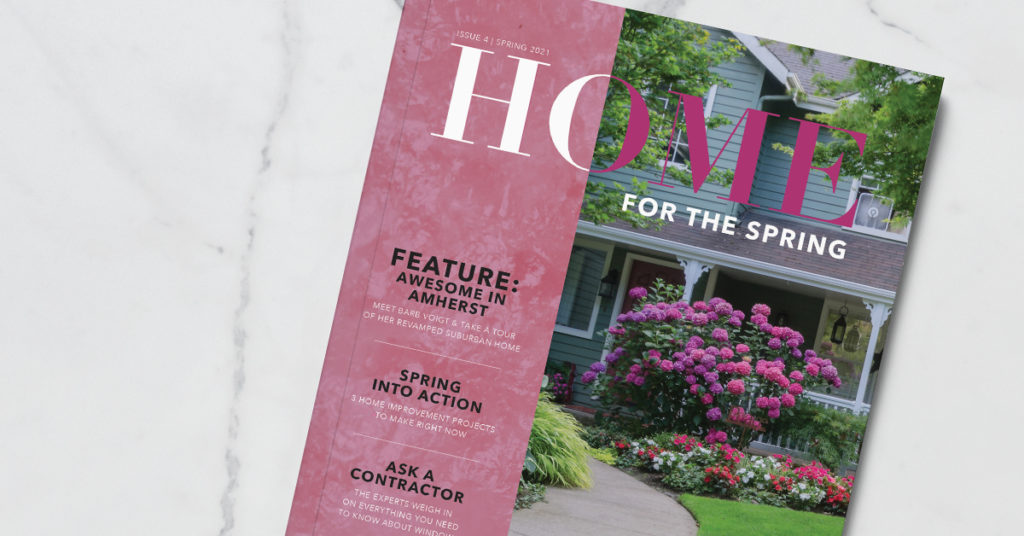 Okay, so what sort of scoops were served in the spring edition of the Kaz magazine? The formula—which you're free to borrow for your own value-add marketing initiative—is this:
Letter from the head honcho.
Give your owner or CEO or president or whoever a voice that speaks directly to the customer. A friendly message from the chief will make your company seem less like an entity and more like a person—it will remind them that, oh, yeah, this business is really made up of human beings.
Company update.
What's new? What's up? What's happening? Share a brief update that informs, excites, or energizes your readers. Clear-cut communication creates a sense of community that makes people feel warm and welcome. It's nice. People like "nice."
On-brand insights and activities.
Do you sell mustard? Offer some mustardy recipes people can try to make at home. Do you sell car tires? What are some tips people should know about driving in winter weather? Do you sell gardening supplies? Which types of plants grow best in the spring and summer months? Think about your brand and see what sort of stories (scoops?) are worth sharing.
Feature story: testimonials and work examples.
That project was a hit because the final product was awesome, the customer loved it, and everyone was happy. Call it a puff piece, if you want—it is sort of that. All you need to do here is:
Interview the customer to capture their experience
Take photos of the finished product and happy customers
Write an article that presents the story

Situation > Problem > Solution > Results
What a scoop!
Something fun and educational.
What's life but a finite opportunity to frolic in the frivolities of something fun? Similar to those on-brand insights and activities, the "fun thing" you share with your customers should make sense—at least a little bit—to your customers. Consider suggesting a brand-adjacent activity they'll actually enjoy doing or learning about. In the Kaz mag, we offered family-friendly chalk art ideas and a brief history of hopscotch.
Meet the team!
Introducing your team members helps people put faces to names, which is another great way to humanize your business (or department, or client). It also lets you brag a little bit—and that's okay! After all, customers want to work with people they feel like they know and trust. So be sure to share things like your team members' years of experience, areas of expertise, and professional recommendations.
You can do it. Or we can do it. Or we can do it together.
Whipping up a marketing value-add in the form of a magazine isn't easy, but it can be a fun way to mix up the monotony of making all those blogs and social media posts. Want to give it a try at your business? In your department? For your client? Go for it! And if you need a hand, we're to help.
Thanks for reading!
Follow us for more on Facebook, LinkedIn, and Twitter.
Sign up for our newsletter...
Give us your email and get our stuff delivered to your inbox. You might not regret it.
Thanks for subscribing! You won't be sorry.
Uh oh. Something went wrong.