Medaille's No Excuses Campaign
Who doesn't love a good case study?
We at The Quilted Squirrel pride ourselves on several things: great taste in office décor, partial photographic memory (but only in sepia tone), and our ability to execute on integrated campaigns. And we're not just the creative brains behind the concept – as a full-service agency able to produce radio and TV ads in-house, we're the whole operation.
The Client
Medaille College is a private, nonsectarian four-year college with campuses in Buffalo and Rochester, as well as an offering of online programs. Medaille offers undergraduate and graduate degree programs in hands-on, practitioner-based learning environments on campus and in the community.
The Situation
Recently, Medaille College approached us about highlighting their graduate programs to inspire mid-level managers to reach their career goals with a secondary degree in their field.
The Challenge
We needed debunk popular myths about going back to school as a working adult (not enough time in a busy schedule, lack of flexible learning options, secondary degrees take years to complete) and offer a convenient solution in Medaille.
The Solution
The result is a fully integrated campaign, featuring television, radio and digital advertisements, that seamlessly conveys Medaille's message of flexibility and convenience to our audience across several platforms.
TV spot
Radio Spot
If you listen closely, you might hear some familiar voices. If this whole marketing thing goes under, it's good to know we have promising careers in voice acting.
Digital ads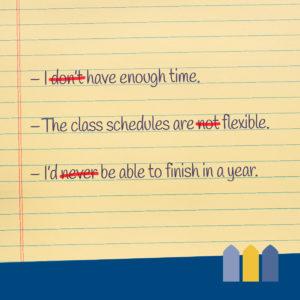 At this point, there is absolutely no reason why you haven't enrolled in a post-graduate program.
We especially like working on campaigns like these because they require contributions from our full team, allow opportunities for creative brainstorming and collaboration, and challenge us to be versatile and resourceful in order to create a multi-faceted, yet streamlined, final product for our partners.
Sign up for our newsletter...
Give us your email and get our stuff delivered to your inbox. You might not regret it.
Thanks for subscribing! You won't be sorry.
Uh oh. Something went wrong.