At TQS, we believe that great marketing takes nuts.
That doesn't always mean taking huge risks. Sometimes, you just need to be two degrees off-center to make someone take pause and remember you.
One of our clients, Capital Heat, needed a way to stay top-of-mind after completing work for their customers. They wanted to make sure that customers not only felt appreciated and confident that they made the right choice in hiring Capital Heat, but also that when it came time for maintenance, tune-ups or other HVAC needs, they would call Capital Heat again.
Specifically, they were looking to send something to customers who'd had a new furnace, boiler or central AC unit installed. A new HVAC addition to their home.
We wanted to make sure people were talking about Capital Heat. That not only did they keep Capital Heat in mind for future work, but that they talked about Capital Heat to their friends, family and neighbors.
What do your friends, family and neighbors do when you have a new addition to the family? They come over with gifts. Snacks. Coffee. Blankets. Clothes.
So we created gift packages full of "new addition" gifts that Capital Heat would send to their customers after they'd completed a new installation.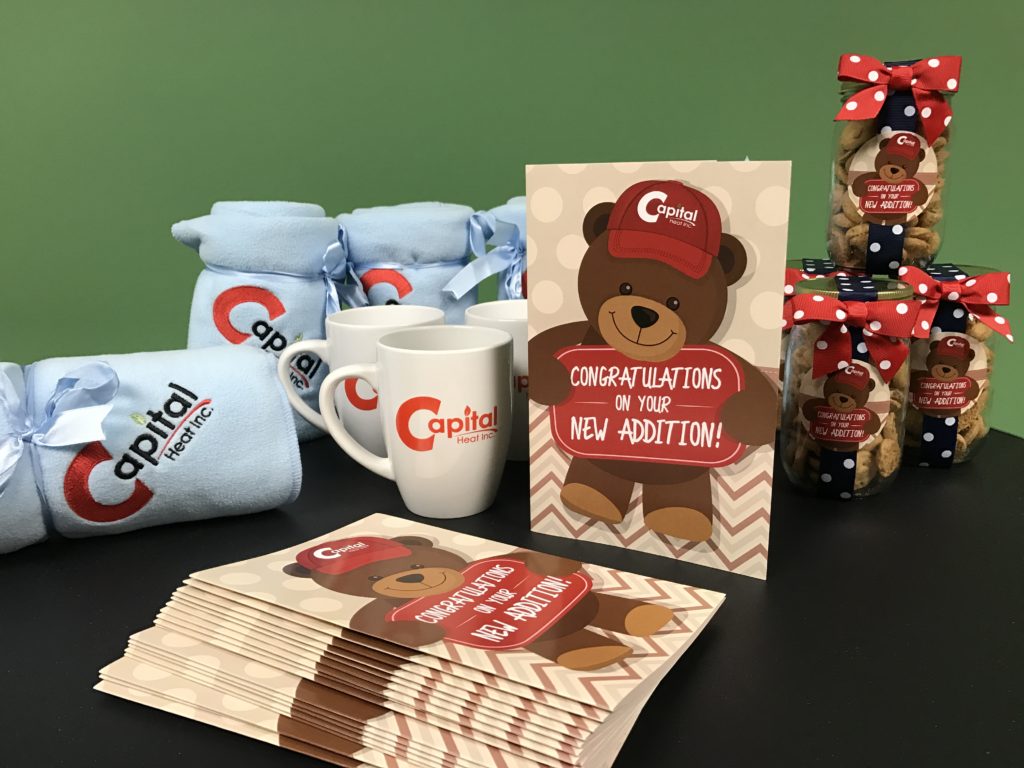 Some snacks to give visitors who, inevitably, will want to come see the new addition for themselves. Tips to make sure your new furnace stays healthy and strong for years to come. A mug for the necessary early morning coffee binges after staying up all night in awe of the new addition you've been blessed with.
We could have just sent a nice branded fleece blanket and a polite thank you note from Capital Heat. A fridge magnet with maintenance tips. But we wanted to make sure Capital Heat stood out.
We wanted to send something that customers will remember when the dust settles. Something they'd maybe get a laugh out of, and that they'd feel compelled to tell others about.
We wanted to send something that would stand out in a sea of generic branded items and throwaways. Something that would make each customer more likely to chose Capital Heat again, because the experience became more than just a satisfactorily standard HVAC installation.
We've said it before and we'll say it again: great marketing is marketing that works. Compelling, engaging and effective can take many forms. Our goal is always to hit those three areas in our work. Sometimes, that means running with ideas that are a little off-center.
And at the end of the day, we're confident that recipients of the new addition gift packages will be likely to call Capital Heat for a future project. We call that marketing that works.
Sign up for our newsletter...
Give us your email and get our stuff delivered to your inbox. You might not regret it.
Thanks for subscribing! You won't be sorry.
Uh oh. Something went wrong.