Kaz's Garage Doorbuster Sale
Who doesn't love a good case study?
Here at TQS, we're big believers in showing and not telling. So instead of saying, "Hey, we can do this or that for your business," we're saying, "Yo, look at some of the stuff we've done for other businesses around town." Let's costume up and take a trip back to Halloween when we whipped up this creepy and kooky doorbusters campaign for Kaz Home Improvements.
The Client
Kaz Home Improvements is a full-service home remodeling company that renovates homes across Western New York.
The Situation
The home improvement company wanted to promote a limited time offer for certain garage doors, styles, and package deals.
The Challenge
With winter right around the corner, the demand for garage door repairs was soon to drop. And since the limited time offer expired on October 31, the creative concepts called for seasonal themes (Halloween and Thanksgiving). To expedite sales, the company needed an integrated marketing campaign that would:
Highlight key products, pricing, dates, and savings
Create a sense of urgency around the deal
Reflect the sights and sounds of the fall season
The Solution
We positioned the limited time offering as "The Ultimate Garage Doorbuster Sale" and created Facebook ads, display ads, a landing page, and a radio commercial to promote it.
Video Spot (10 Seconds)
"Would your garage door look better on a haunted house?!" asks this animated 10-second video spot. Featuring some super spooky motion graphics and a very villainous voice-over, this quick TV commercial captures the spirit of the season while promoting killer deals on garage doors at Kaz.

Facebook Ads
We brought a dark and stormy night to Facebook with a series of ads that showed people how scary their garage doors could be. A straightforward headline and call to action drove people to a custom landing page where they could learn more.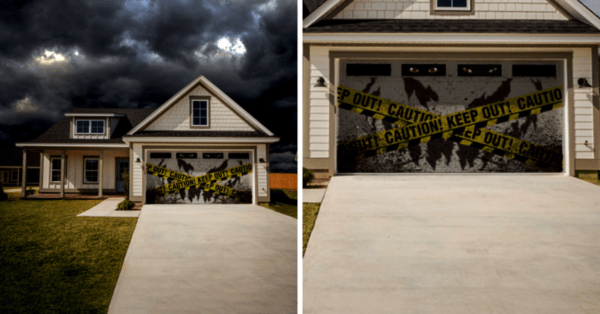 Landing Page
"Garage door haunting your home? Time to replace it." This was the landing page headline that greeted visitors, along with a quick list of savings, deals, and prices. We also embedded a user-friendly form and phone number as calls to action.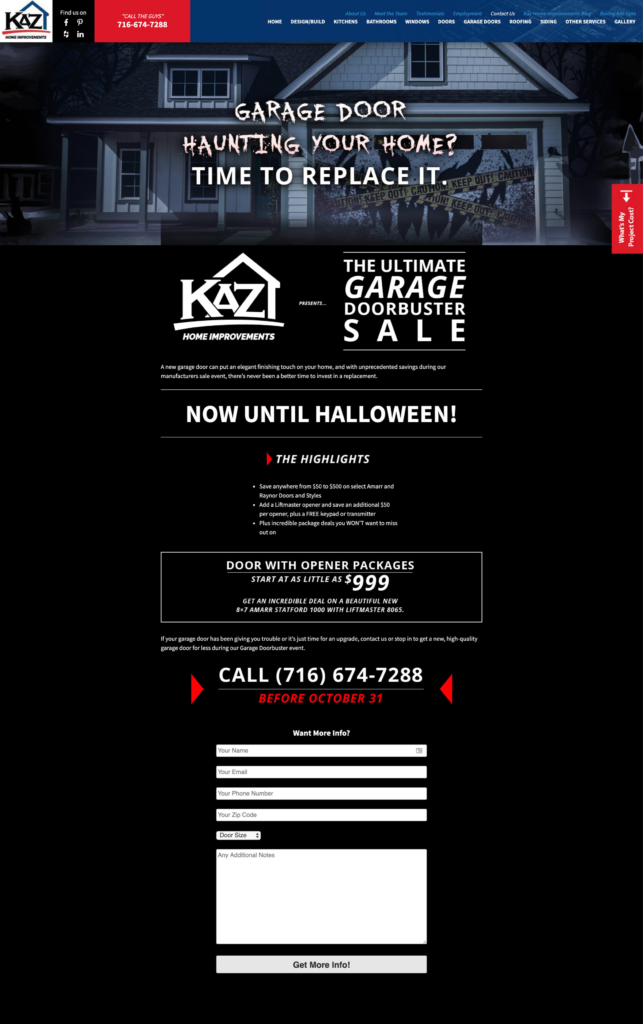 Display Ads
Our "Garage Doorbuster" campaign didn't stop on the Kaz website. We re-created the previous concepts and fired them up as display ads, summoning eyeballs and clicks from targeted audiences on third-party websites.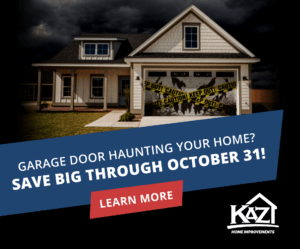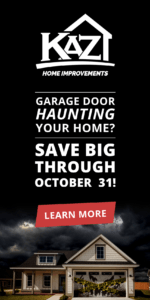 Radio Ad
For this 30-second radio ad, we shifted the focus from Halloween to Thanksgiving. Instead of a ghoulish garage door, we dreamed up something even scarier: the disapproving father-in-law who's wondering why you haven't fixed it yourself. Here's the script!
The holiday season is coming—is your house "guest ready"? The last thing you need is your father-in-law offering to repair your faulty garage door! Luckily, Kaz has extended its epic garage doorbuster sale. Save big on select Amarr and Raynor models and hundreds on package deals. But call or visit "Kaz Home Improvements dot com slash doorbuster" soon. The sale ends when Thanksgiving and the in-laws come around.
Contact us!
Are you looking for new creative marketing partners? Let us know! And don't forget to follow us on LinkedIn, Facebook, and Twitter.
Sign up for our newsletter...
Give us your email and get our stuff delivered to your inbox. You might not regret it.
Thanks for subscribing! You won't be sorry.
Uh oh. Something went wrong.