Here at the Quilted Squirrel, we have a handful of daily occurrences that manage to provide a sense of comfort among the chaos of agency life. They're kind of like our rocks* that keep us grounded. The "beep beep" of the alarm system when the door opens. The whirring noise when the tenant upstairs flushes their toilet. The crunch of Tyler eating his Buffalo wing flavored pretzel thins every morning. Every. Single. Morning.
But who could blame him? As our resident designer, developer, troubleshooter, and meme master, this guy has to keep his energy up. Plus, as a California native who just moved to Buffalo last March, he has years of catching up to do when it comes to consuming anything Frank's Hot Sauce-related.
Now that we think about it, we bet there are a lot of other things about Tyler that you don't know. Like the time he fought off a great white shark with his bare hands. Okay, he didn't actually do that. But what about the time that he toured the world for four years as a founding member of the American post-hardcore band, In Fear and Faith? Yeah, he did that, and we have the pictures to prove it.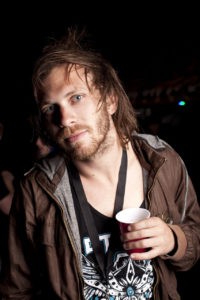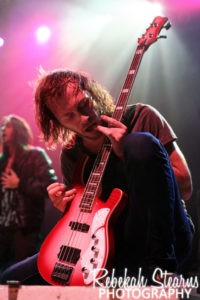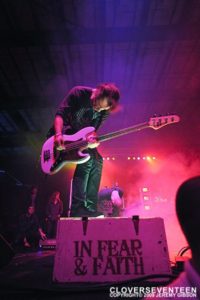 But after all that bass playing, all the writing and producing music, and four whirlwind years of touring and producing live shows, it was finally time for Tyler to move onto bigger and better things. But unlike other rock stars, Tyler did not spiral into a horrible plastic surgery addiction.** Instead, he went on to work in design and publishing, married the lady of his dreams, had a son (with another on the way!), and ultimately relocated to Buffalo, his wife's hometown. Now it's today, and Tyler's typically the one designing your Barbie DreamHouse of a website or your Venus de Milo of a print piece.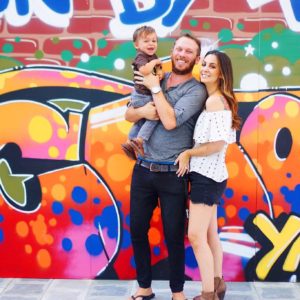 We recently sat down with Tyler to ask him a few questions that were completely customized to his life experiences.*** Read on to learn more:
Where's the piano?
In Fortnite Season 7, there are two pianos; one is in Pleasant Park and the other in Lonely Lodge. So there's that.
Last year; you played more than 100 shows. Why do you work so much?
We only made money playing shows and selling merchandise. Plus it was fun traveling the world and meeting tons of people. I met my wife while on tour even!
Have you read Keith Richards' autobiography?
I have not, but I'm adding it to my Audible wish list as we speak. Also, I saw a funny joke looking this up: "We need to start worrying about what type of world we're going to leave for Keith Richards."
How is your relationship with Bernie Taupin these days?
I'm sad to say that we aren't very close these days.
You played piano and sang on Kanye's last album, on "All of the Lights." How'd that happen?
I'm starting to think these questions aren't for me. I'm a pretty bad piano player and an even worse singer. Plus that song is like 7 years old, isn't it?
Do you see yourself in Lady Gaga?
I just realized that Lady Gaga is younger than me and I suddenly need to take my Metamucil and eat some Werther's Originals.
* Again, not referring to Dwayne "The Rock" Johnson. Although, what if we actually did have several, tiny versions of Dwayne "The Rock" Johnson? That would be comforting.
** That we know of.
*** It has recently been brought to our attention that these questions were actually asked of an entirely different formerly touring musician named Elton John during a 2011 Rolling Stone interview. Never heard of him.
Sign up for our newsletter...
Give us your email and get our stuff delivered to your inbox. You might not regret it.
Thanks for subscribing! You won't be sorry.
Uh oh. Something went wrong.