Happy Father's Day from Quilted Squirrel!
Seems like just yesterday we were out here hyping up our moms for Mother's Day.
This month, it's time for us to show some love for the big guys. The dads, the pops, the fathers, the bubbas. Why? Because we love 'em! Or because some of us are dads ourselves.
But also because of this: When you get to know each of us a little bit better, you can feel good about who we are as people or partners. And that's just kind of nice, you know?
So, cheers to ALL the dads. Cheers to you. Cheers to today. Hey, cheers. Here we are. 
Jerry Lee, Marketing Strategist
My dad not once—but TWICE—made halloween costumes for me that won significantly sought-after prizes at local Halloween festivals.
One was a robot made out of a trash can, a bucket, some dryer hose, rubber gloves, and some flashing lights. The other was a cardboard-framed papier-mâché dinosaur. Both were impressive, and the latter yielded the comment "Jerry Lee always has the coolest Halloween costumes" from Chris Carlson, a legit "cool kid" from grade school.
From Cub Scouts projects to my very own G.I. Joe junglescape he built for me (and my action figure collection) in our basement, he's shown me countless times how capable we are of bringing to life anything our imagination can fuel—and what an imagination he blessed me with.
From a son who has made a career of helping bring crazy ideas to life, there's no pleasure greater than wishing my dad, Mr. John Lee, an incredible Happy Father's Day! Love ya bud!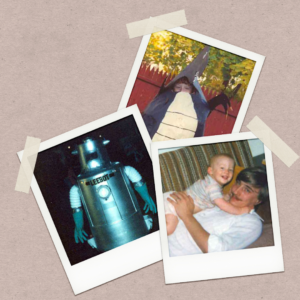 Ken, Dad, Daddio! Happy Father's day to the guy who taught me my work ethic, gave me my sense of humor, and is partially responsible for my good looks. 😎 Thank you for all you've done for us over the years, especially instilling a love for spreadsheets in me at a young age. Here's to many more dance parties, surprises, and celebrations. Love ya!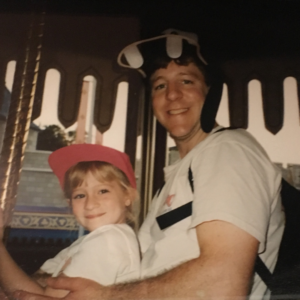 My dad, Harvey, was a Vietnam combat veteran with the Marines, a 30+ year employee of Ford, and a dad—of three kids—who always tried to do right by them. He also battled addiction for most of his adult life, found his way to sobriety for 16 years later in life, and ultimately succumbed to the disease at age 67. And despite the challenges he faced in life—some manufactured, some inevitable—he was probably one of the most positive and upbeat people I've ever known. An infectious smile, doubly infectious laugh, and love of a good joke, he could almost immediately raise the spirits of people around him.
I can't say, like others, that my dad "taught" me a bunch over the years. Truthfully, he wasn't around much during my formative youthful years. But as I had an opportunity to get to bond more with him later in life— even see him enjoy a few good years as "Bompa" to my first child, I gained a better appreciation for how much he loved his kids, and how important we were to him, despite what we may have experienced growing up.
And now, as the father of three young boys, looking back on the good, the bad, and the sometimes ugly with my dad, I've gained an even greater appreciation for the responsibilities, and opportunities, I have as a dad. Opportunities to love, opportunities to teach, and just simple opportunities to be "Dad." So, I guess, as I look a little deeper, you could say my dad taught me a little something after all.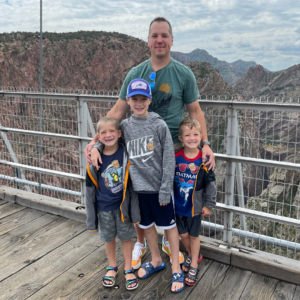 Happy Father's Day to the one and the only—and some might even say "legendary"—Larry White (a.k.a. "Big Lar")!
Not only a great dad, and "Pop Pop" (i.e., grandfather), but just an all-around great guy. I can certainly attribute a lot of who I am to my dad. I've learned a lot from him over the years—which has hopefully made me a better person. It's always stuck with me how many folks that worked for him (he started out as a radio DJ, and later managed radio stations) not only respected him, but really loved the guy… even to this day, many years later. It's a testament to who he is—a genuine, heart-on-his-sleeve guy, who really cares. Something we can all aspire to.
Thanks for all you've done for us, Dad!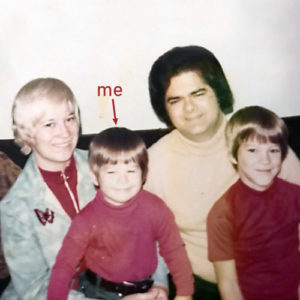 Happy Father's Day to my father, Mark. This photo is from May 2020 after my COVID-friendly college graduation ceremony at Niagara University.
Dad, I'm thankful for your constant support, the life lessons you've shared, and for passing down your taste in music! I'm especially thankful for the memories we've made together on the road trips we've taken, and from the sporting events and the concerts you've taken me to. Love you Dad!
Happy Father's Day to all of the other fathers, and fatherly figures, reading this blog as well.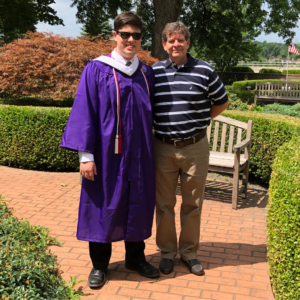 There's one piece of "Dadvice" that has always stuck with me, something my dad told me about 15 years ago. He asked me to go buy something on the fly in preparation for a now-forgotten event.
I explained that I didn't have any money to buy said item. He sat me down, and said that a man should always, always have a $100 bill in his wallet at all times. Not only will it allow you to be prepared for anything at all times (socially and/or financially), but it conveys a certain image and style that shows you have foresight and dependability in these situations.
With that advice, he handed me a crisp bill, and I've always kept one in my wallet ever since.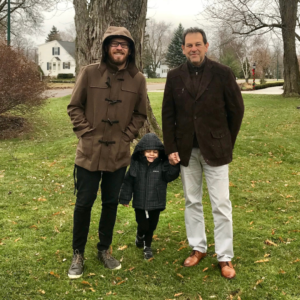 Yeah so it turns out my dad a.k.a "The Dad" a.k.a. "Big Jim" rules pretty hard. Here he is with me and my sister, Sara, circa 1990.
Dude served in the Vietnam War, caught Pink Floyd TWICE at Madison Square Garden, and held down the fort as the father of five for 40+ years.
He's bailed me out of more unsavory situations than I'd care to admit, and he's taught me so much in my lifetime. Like how if a job's worth doing, it's worth doing right… what you should (and should never say) to a lady… and, most important of all, when to split pairs at the blackjack table.
I love you, Dad! HAPPY FATHER'S DAY.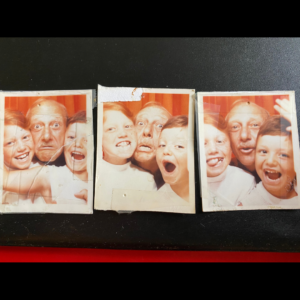 Shout-out to the big guys.
We're thankful and grateful and hopeful for you and all the dads and dad-like figures out there. For more takes from our team, you can get to know us on LinkedIn, Facebook, Twitter, and Vimeo for more.
Thanks for reading.
Sign up for our newsletter...
Give us your email and get our stuff delivered to your inbox. You might not regret it.
Thanks for subscribing! You won't be sorry.
Uh oh. Something went wrong.